It's a great time to be a crane in the Dallas Fort Worth area, and we don't mean the bird.  The heavy equipment machine called the 'crane' that lifts massive weights of building materials
to incredible heights is certainly getting a work out the last few years and it won't be getting a rest any time soon as the PGA Headquarters developments begin in Frisco.
The PGA  of America announced early December it will move its headquarters from Palm Beach County, Fla., to Frisco, Texas, paving the way for future PGA Championships and perhaps even a Ryder Cup to take place in the Lone Star State.
The move includes the creation of a 600-acre, mixed-use development with an initial investment of more than $500 million. Along with a 100,000-square-foot headquarters, the campus will include two championship courses, a short course, a 127,000-square-foot conference center, retail village, parks, and a 500-room Omni resort. It will sit just south of U.S. 380 at Rockhill Parkway and Legacy Drive, within a 2,500 development being master planned by Hunt Realty Investments.
The PGA is partnering with the city of Frisco and its economic development arm, Frisco ISD, and Omni Stillwater Woods, a joint venture led by Omni Hotels & Resorts, Stillwater Capital, and Woods Capital, which bankrolled Trinity Forest Golf Club in South Dallas.
It's getting about $160 million in incentives from various entities, but Frisco officials say the project will have an economic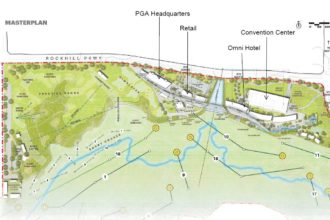 impact of more than $2.5 billion over the next 20 years.
History of PGA in Texas
The last time a major golf tournament came to Texas was the 1969 U.S. Open held June 12–15 at the Cypress Creek Course of Champions Golf Club in Houston, Texas. Orville Moody won his only PGA Tour title that year, one stroke ahead of runners-up Deane Beman, Bob Rosburg, and Al Geiberger.
That was the last time an open was held in Texas and the new courses being built are the courses that will host two PGA Championships — in 2027 and 2034 — and possibly even a future Ryder Cup. A Ryder Cup in North Texas, what a wonderful world.
"Our move to Frisco will be transcendent for the PGA of America," Seth Waugh, CEO of PGA of America, said in a statement. "Everything great starts with a dream. This is the beginning of a bold, new journey as we bring together world-class partners in a world-class location — to deliver innovative and differentiated experiences for our nearly 29,000 PGA golf professionals, golfers of all abilities and our staff."
Venues for future PGA Championships
2019: Bethpage Black (Bethpage, New York)
2020: Harding Park (San Francisco, California)
2021: Kiawah (Kiawah Island, South Carolina)
2022: Trump National (Bedminster, New Jersey)
2023: Oak Hill (Pittsford, New York)
2024: Valhalla (Louisville, Kentucky)
2025, 2030 (undetermined): Southern Hills (Tulsa, Oklahoma)
2026: Aronimink (Newtown Square, Pennsylvania)
2027: Frisco (TBD)
2028: Olympic Club (San Francisco, California)
2029: Baltusrol (Springfield, New Jersey)
2031: Congressional (Bethesda, Maryland)
2032: N/A
2033: N/A
2034: Frisco (TBD)
The Ryder Cup backup is even deeper as U.S. venues are slated through 2036.
---
---
A special thanks to these reference posts:
-https://www.dmagazine.com/business-economy/2018/12/how-frisco-won-new-hq-championships-from-pga-of-america/
-https://www.golf.com/thttps://www.dmagazine.com/business-economy/2018/12/how-frisco-won-new-hq-championships-from-pga-of-america/our-and-news/2018/12/05/pga-of-america-announces-relocation-florida-to-texas/
-https://www.cbssports.com/golf/news/pga-of-america-moving-headquarters-to-texas-and-possibly-taking-pga-championships-with-it/